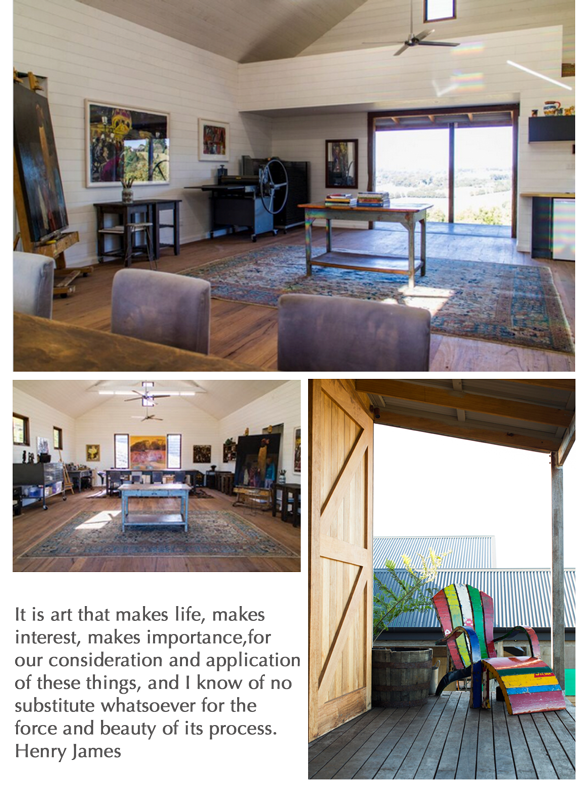 In the tradition of the old French ateliers, ArtWorkshops Australia brings together those with a desire to create and those with a passion to share their knowledge through our series of weekend workshops. Conversing with your peers and cultivating meaningful connections, is central to becoming an interesting artist. Come and enjoy this extraordinary experience with Australia's best art-practitioners.

Immerse yourself in the adventure of painting in the stunning surrounds of Byron Bay. Finish the day with a glass of wine and light supper contemplating your work with fellow artists.

Kafka wrote in one of his diaries "Art is the axe that breaks the frozen sea within us." It should always come back to your internal motivations, honesty with yourself and a sincere attempt at self-expression. Art is bigger than any individual or group. Get used to its ever changing nature, make the most of it and be positive. And if your actions help someone else along the way all the better.
"Give a Little Bit by Steve Lopes. Artists Profile 2008"

Whether you are an abstract painter, a figurative sculptor or use printing as a tool to capture the landscape, ArtWorkshops Australia offers a relaxed, professional approach to guide beginners in basic practice, and gives experienced artists the opportunity to glean new insights and re invigorate their work.